Veterinarian
Dr. Joe Rodier offers veterinary services, including advanced orthopedics and TPLO surgery, to patients in Blue Springs and surrounding Kansas City areas.
Dr. Rodier has been providing outstanding care for Blue Springs area pets since 1986. He is especially interested in improving the health and well-being of pets through preventative wellness care. Dr. Rodier's other passion is state-of-the-art surgical care including complex orthopedic corrections. He has many hours of advanced training and experience with soft tissue and orthopedic procedures, including TPLO surgery. bone pinning, plating, and external fixation, patella surgery, and OCD surgery.
Dr. Rodier is happy to provide consultation and accept referrals for advanced soft tissue and orthopedic surgery. Dr. Rodier has been active in the community with the Blue Springs Rotary Club and the Boy Scouts. His hobbies are biking, sailing, MU Tiger Football, ballroom dancing, fishing, and almost any outdoor activity. Dr. Rodier met his wife, Joyce, in college and they have been married since 1982. They have 3 boys, JT, Justin, and Jaren, all three Eagle Scouts who graduated from Blue Springs South and the University of Missouri in Columbia. They have a golden retriever named Jade, a hound dog named Tator, and 2 cats – Mali Ki Ki and Jasmine.
"I want to tell you about someone who taught me a lot about what I value. He taught me caring. He was kind and gentle. He was always loyal. He totally trusted others and me. He was a friend to everyone he met. He had a playful and adventuresome spirit. He grew up with my kids and he never hurt anyone or anything. He was my best friend for 12 years. He was my first dog after Veterinary School and his name was Roscoe.
Roscoe taught me more about the feeling people have for their pets then any book or seminar. He was there every day for me, and I was there for him. I want to be there for the people and their pets that I have the privilege to care for, because I know how valuable their relationship with their pet is. The motto of our practice is "It's all about caring," and I want to be known for caring."
Professional Degrees:
1982 Doctor of Veterinary Medicine, University of Missouri, Columbia
Professional Associations:
Special Interests:
General & Orthopedic Surgery
Preventative Medicine and Wellness Care
GI Disorders and Endoscopy
Skin and Allergy Diseases
Advanced Training or Certification
Certified for Penn Hip Evaluation
Universal Ultrasound Course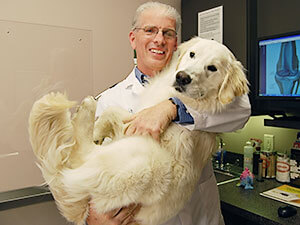 ---