8 Great Things About Blue Springs Animal Hospital & Pet Resort
At Blue Springs Animal Hospital & Pet Resort, we know that you trust us to provide the very best care, and living up to that trust is our most important responsibility.

For us, "It's All About Caring." and there are 8 things which we consider important to providing the best veterinary medicine available today for our patients.
---
1. INSPECTION AND ACCREDITATION
Only 15% of veterinary hospitals or clinics in North America are inspected and achieve accreditation by the American Animal Hospital Association. Visit AAHA's page: Why Accreditation Matters
For over 30 years Blue Springs Animal Hospital & Pet Resort has been inspected and accredited for compliance with over 900 AAHA procedures and protocols to ensure top quality care for your pet.
In 2010, the accreditation inspector nominated Blue Springs Animal Hospital & Pet Resort for the first ever AAHA Practice of the Year award. BSAH&PR was selected as a finalist among the top 8 veterinary practices in North America.
---
2. DEDICATED AND CARING STAFF
The essential key to great medical care is a highly trained staff who genuinely care about giving pets top quality medical treatment. Many of our doctors and staff have been at Blue Springs Animal Hospital for a long time and their dedication sets the example. We believe the following are important considerations in retaining staff who provide the best care:
intentionally recruit doctors and staff who demonstrate a genuine, from-the-heart compassion for pets and the people who love them
practice a team approach with support and consultation among multiple doctors on difficult cases
provide a mandatory 6 month mentorship program with the hospital Medical Director for new doctors
provide extensive training to support staff on general pet care knowledge and tasks that pertain to their job duties
invest over $20,000 annually in conferences, meetings, and workshops for continuing education
encourage education and skill development by requiring that only graduate, licensed technicians supervise our anesthesia, surgery, and dentistry cases
---
3. STATE OF THE ART FACILITIES
Veterinarians own and maintain their own facilities, and BSAH&PR has one of the finest veterinary hospital and boarding establishments in the country.
The facility was specifically designed for cleanliness, disease prevention, and pet comfort. It features:
power wash disinfection system
HVAC sanitary air exchange
commercial dishwasher (like a school cafeteria) for bowls and toys
commercial washer/dryer for bedding
isolation area for contagious diseases
high tech surgical, exam, hospitalization, diagnostic, bathing, and boarding areas
---
4. LIFETIME WELLNESS CARE
BSAH&PR offers complete wellness care programs to prevent parasites and contagious diseases for pets (and the people who live with them).
Lifetime wellness care starts at BSAH&PR with a comprehensive and affordable puppy or kitten plan and continues through the pet's life to adult and senior plans designed to keep pets healthy and happy throughout their life. The wellness plans are based upon:
consultation among the doctors and others nearby about cases seen in our area
a strong commitment to determine risks and protect pets while not over-vaccinating
a belief that veterinarians have an important responsibility to educate and protect people from parasites or diseases which can pass from unprotected pets to people
---
5. ADVANCED SURGERY CARE
BSAH&PR offers advanced soft tissue and orthopedic surgical procedures on-site. We take surgery and anesthesia very seriously with a focus on the following:
state of the art facilities, equipment, & procedures for exceptional surgical care adherent to rigorous quality standards
graduate, registered veterinary technicians oversee our skilled and caring surgery staff with a high staff/patient ratio
periodic reviews of anesthetic protocols with a board certified anesthesiologist to ensure safety and quality
veterinarians with extensive experience in advanced surgical procedures
---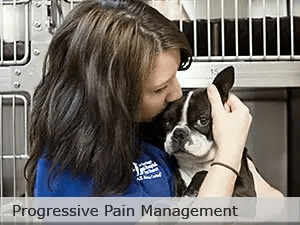 6. ATTENTION TO PAIN MANAGEMENT
Pain management for surgery or other painful conditions is a top priority. Pets can not tell us when it hurts. Good pain management is pro-active and utilizes medications and methods that are the BEST.
In consultation with AAHA and board certified specialists, BSAH& PR has developed and follows a 6 page protocol for pain recognition and treatment using multiple progressive techniques and medications.
If your pet ever needs surgery or develops a painful condition, BSAH&PR will compassionately work with you to provide the best pain management available for your loved one.
---
7. DIAGNOSTIC CAPABILITIES
An accurate and timely diagnosis requires owning and maintaining many high tech diagnostic instruments and supplies.
Without a timely and accurate diagnosis through proper diagnostic testing, medical treatment is guesswork. Blue Springs Animal Hospital has purchased and maintains well over $500,000 worth of high tech diagnostic and therapeutic equipment. This investment enables fast, accurate answers and top quality medical monitoring and treatment.
When your pet gets sick, you can have peace of mind knowing that Blue Springs Animal Hospital is prepared to provide you with answers and your pet with the best treatment options available!
---

8. RESORT SERVICES
All boarding and grooming facilities are not all created equal! The resort at Blue Springs Animal Hospital stands out in many ways:
staffed by professional, highly trained pet lovers
Pampered Pet Playtime for boarding and daycare pets in a 1200 sq ft indoor playroom
health policies and disinfection protocols to keep pets safe from diseases
dogs receive outdoor leash walks and individual attention and TLC
pets with special health needs are closely monitored and medications are administered by trained staff to ensure proper treatment
veterinarians are only steps away if your pet would need care during their stay