Dog Breeding and Reproduction Services for the Kansas City Area
Our veterinarians offer dog breeding and veterinary reproduction services, including progesterone testing, artificial insemination ( AI ), vaginal cytology, semen collection and shipping, and pregnancy evaluation for dogs in Blue Springs and the Kansas City metro area.
ESTABLISHING CARE AS A BREEDING CLIENT
Please make an appointment to set up a client account and establish care well before time-sensitive breeding services are needed.
Our breeding doctors are in high demand and often book out a month or more in advance for new client appointments.
WHY CONSIDER VETERINARY ASSISTANCE WHEN BREEDING DOGS?
The number one cause of infertility or small litter size in dogs is poor breeding management due to incorrect timing of ovulation and breeding. By using vaginal cytology along with progesterone testing a veterinarian can determine the timing of ovulation, thereby increasing the likelihood for pregnancy and maximum litter size.
Evaluation by a veterinarian of the concentration, mobility and morphology (physical characteristics) of the sperm will determine how likely or unlikely the dog is to become pregnant.
Artificial or surgical insemination with fresh, chilled, or frozen semen may be performed by a veterinarian if preferred by the breeder or if the dogs are unable to naturally mate.
Semen may be collected and chilled for shipment to facilitate breeding of a female at a distant location.
Pregnancy can be confirmed by a veterinarian at 25-30 days by palpation and an ultrasound exam. Ultrasound allows visualization of the heartbeats to confirm live puppies.
Radiographs (X-rays) can assist in estimating litter size at 45 days post conception.
Assisted breeding and pregnancy diagnosis enables the veterinarian to give a closer estimate of the whelping date, allowing close monitoring and assistance during and after birthing when needed.
In situations with a high risk of problems during natural birthing, elective C-sections can be planned to make delivery safer and more humane.
VETERINARY ASSISTED DOG BREEDING SERVICES
Comprehensive Breeding Management and Consultation
Physical examination and breeding evaluation
Ovulation timing with progesterone testing and vaginal cytology. In house progesterone testing yields same day results.
Semen collection and evaluation
Semen chilling and shipping
Artificial insemination (with fresh or chilled semen)
Surgical insemination (with fresh, chilled, or frozen semen)
Infertility diagnosis
Pregnancy diagnosis with ultrasound of puppies and visualization of the fetal heartbeat
Radiographic estimation of litter size
Obstetrical assistance, elective C-section in appropriate breeds
Neonatal care
The following video during an ultrasound pregnancy diagnosis demonstrates fetal heartbeats with color flow doppler:
Video Player
ELECTIVE C-SECTIONS
Certain breeds or individuals with high risk factors may be unable to safely have a natural delivery.
With monitoring of the female's hormones during breeding our veterinarians are able to precisely predict due dates based on a hormonal event called the LH surge.
We can then plan elective C-sections in high risk individuals to more safely and humanely deliver puppies and avoid birthing difficulties.
C-Sections at Blue Springs Animal Hospital are performed by our veterinarians with the safest anesthetics, state of the art monitoring equipment, and assistance from a well trained and experienced staff of registered veterinary technicians.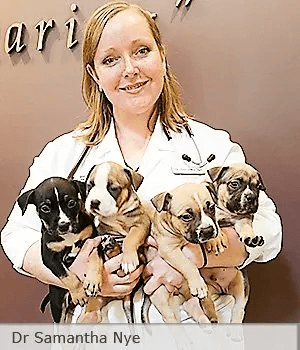 CHOOSING A VETERINARIAN FOR DOG BREEDING MANAGEMENT
It is important to choose a veterinarian with an interest in dog breeding and reproduction. It is an area of medicine which requires special equipment, knowledge, and skills.
Dr. Samantha Nye has years of experience and a special interest in this area and manages dog breeding cases for Blue Springs Animal Hospital.
Read Dr Nye's bio here:
If you would like to set up a consultation to determine how we can assist you with your dog breeding plans, please call our office at 816-229-1544.