Veterinarian
Dr. Samantha Nye offers medical care including comprehensive dog breeding and reproduction services for the Kansas City metro area. Dog breeding and reproduction services include progesterone testing, vaginal cytology, semen evaluation, semen collection and shipping, artificial insemination ( AI ), pregnancy evaluation with fetal ultrasound, and neonatal care.
Dr. Samantha Nye was born and raised in Southern California. She always felt it was her calling in life to be a veterinarian, and could not imagine doing any other career—in fact, there is a video of her at two years of age gently feeding an orphaned baby mouse some milk. Dr. Nye's interest in showing and breeding dogs began at the age of fifteen when she got her first Cardigan Welsh Corgi, and many more Corgis followed after that. Dr. Nye attended the University of California – Davis, where she graduated with a Bachelor of Science in Animal Science and a minor in Agriculture Education. She developed an interest in large animals while at UC Davis, living and working at both the swine and goat barns, and working on a project that ran goats on a treadmill for exercise physiology research for the Army.
Dr. Samantha Nye then attended veterinary school at Kansas State University, where her interest shifted from large animals to instead focus on small animal practice. While in veterinary school, she worked as an Ambassador giving tours to prospective students, and as a laboratory animal technician. Dr. Nye moved to Florida after graduation and worked for three years as an associate veterinarian in a practice that focused on dog breeding and reproduction. Dr. Samantha Nye has continued her interest in purebred dogs by training, exhibiting, and breeding Cardigan Welsh Corgis. You may find her showing her dogs in agility, obedience, and conformation in Kansas City and the surrounding areas!
As a dog breeder herself, Dr. Nye brings a unique experience and insight by understanding the challenges of breeding and raising dogs and cats. In addition to dog breeding and reproduction, Dr. Nye has an interest in preventative medicine and wellness care, dermatology, and dentistry. She is passionate about building long-lasting relationships with clients and their pets and hopes that teaching owners about preventative care can help their companions live longer, healthier, and happier lives.
In her spare time, Dr. Samantha Nye enjoys exploring the Kansas City area, attending concerts and theater productions, and going on long walks with her dogs.
Professional Degrees:
Doctor of Veterinary Medicine, Kansas State University
Professional Associations:
American Veterinary Medical Association
American Animal Hospital Association
Missouri Veterinary Medical Association
Special Interests:
Neonatal Medicine and Husbandry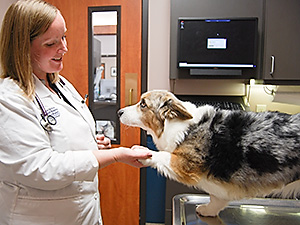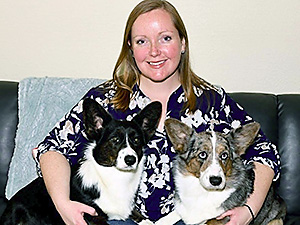 ---