Veterinarian
Dr. Caitlin (Ondera) Freeman offers veterinary care for pets in Blue Springs and surrounding Kansas City areas
Dr. Caitlin (Ondera) Freeman grew up in Elgin, Illinois. Her love for animals began at a very young age when she decorated her bedroom with puppy wallpaper and played "veterinarian" with all her stuffed animals. She began volunteering at animal shelters as a teenager and worked as a veterinary assistant during her college years. Dr. Freeman received a Bachelor of Science in Biochemistry with a minor in Chemistry from the University of Illinois in 2013. She later returned to the University of Illinois and graduated with her Doctorate in Veterinary Medicine in 2019.
Over the years, Dr. Freeman has developed a strong interest in wildlife and exotic pets – prior to veterinary school, she worked at PetSmart to learn more about exotic animal husbandry, and she spent three years volunteering at the University of Illinois Wildlife Medical Clinic during veterinary school. Dr. Freeman also has an interest in shelter medicine and has participated in spay and neuter days with several animal shelters throughout Illinois, as well as traveling to North Dakota with the Rural Area Veterinary Services to provide care to underserved animal populations.
Dr. Freeman's other veterinary interests include soft tissue surgery, emergency medicine, and internal medicine. She is excited to further develop her skills in these areas as a member of the Blue Springs veterinary team! Dr. Freeman currently resides in Independence, Missouri with her husband, Adam, their two dogs (a beagle named Lucy and a German shorthaired pointer named Archer), a bearded dragon, and a Russian tortoise. Dr. Freeman hopes to someday own a large property where she can continue to grow her animal menagerie. Outside of veterinary medicine, Dr. Freeman enjoys hiking with her dogs, cooking new recipes, reading, and scrapbooking.
Professional Degrees:
Doctor of Veterinary Medicine, University of Illinois
Professional Associations:
Special Interests: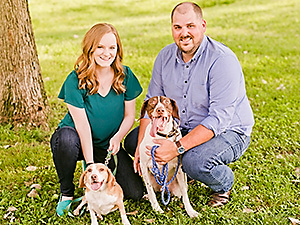 ---